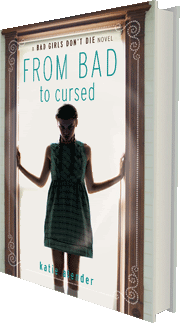 Alexis Warren is totally the last girl you'd expect to sell her soul. She already has everything she needs—an adorable boyfriend, the perfect best friend, and a little sister who's finally recovering after being possessed by an evil spirit. She's thrilled and relieved when her sister joins a club; new friends are just what Kasey needs.
So, yeah, it's a little strange how fast the girls in the Sunshine Club go from dorky and antisocial to gorgeous and popular… but playing with the paranormal is what got Kasey locked up last year—she must know better than to mess with the dark side again… right?
Um, not so much. Soon Alexis learns that the girls have pledged an oath to a seemingly benevolent spirit named Aralt. Not trusting Kasey to fix the situation herself, Alexis and her best friend Megan decide to investigate by joining the club. Alexis trades in her pink hair and punky clothes for a mainstream look, and quickly finds herself reveling in her newfound elegance and success.
Faster than you can say "J. Crew," Alexis has forgotten why she joined in the first place. Surely it wasn't to destroy Aralt… why would she hurt someone who gives her so much—and asks for so little in return?
ISBN: 1423134710
Praise for From Bad to Cursed:
"This book made me wish I still slept with a night-light! A smart, scary ride."
– Melissa de la Cruz, NYT bestselling author of the Blue Bloods Series
"FROM BAD TO CURSED sent a creepy, delicious chill up my spine. All I could think when I turned the last page was more, more, more!"
– Heather Brewer, NYT bestselling author The Chronicles of Vladimir Tod Series
"In the classic tradition of Stephen King, Alender will have you sleeping with the lights on."
– Margaret Stohl and Kami Garcia, NYT Bestselling authors of the Beautiful Creatures Series
Buy the book:
IndieBound | B&N | Amazon | Books-A-Million
Also available on Kindle, Nook & iPad!