Thanks for all of your entries! The contest is now closed. I'll announce the results soon!
The theme of today's new contest is Alexis's Darkroom, a new section of the website full of fun stuff and downloads related to BGDD!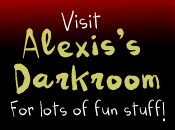 Alexis, of course, is the main character in Bad Girls Don't Die, and I wanted to have a page of fun extras and links related to the book. We have downloads, photo galleries, quizzes, and links to some supplemental materials I created for the book.
HOW TO ENTER:
+1 entry for commenting below with the name of a book on your TBR (to be read) list!
+1 entry for taking the "Which BGDD character are you most like?" or BGDD trivia quiz and posting your result in your comment! (You can just use the text… using Quibblo's code takes up an awful lot of room!)
+1 entry if you are the first person to bring a broken or bad link to my attention (it is a new page, after all)
+1 entry for Tweeting about the contest! (Don't forget to link to this post, mention @katiealender and use the hashtag "#bgddcontest") — do this up to three times (on three separate days) for more entries!
WHEN TO ENTER:
Any time between now and next Friday, August 14, at 11:59 p.m. Pacific time.
WHO CAN WIN:
Anyone can enter, although I will only ship prizes within North America/the U.S… if you're international, enter on behalf of a friend! Please refer to this post for more info about previous winners, etc.
WHAT YOU'LL WIN:
(1) A signed copy of Bad Girls Don't Die, donated to the contest by friend to all readers and the authors' fairy godmother, Larramie at The Divining Wand.
(2) A custom tote bag (or crafty item of similar scope–apron, throw pillow, etc.) and eye pillow set, made just for you, after a consultation!
So what are you waiting for? Get entering!